I am a voice teacher & vocal coach who believes that all sounds including extreme vocals can be produced in a healthy way. All singers share the same instrument, but we choose to use our instrument differently. In order to sing and scream with ease and without any strain we need to know how to do that.
Summing up my vision of VOCALS ROCK is to give singers and extreme vocalists simple and solid tools to develop and improve their sound, giving them a healthy technique to hold longer notes, expand their vocal range, have enough power and control over their voice during a live performance and most of all not getting hoarse, even singing with rough vocal effects.
Singers, extreme vocalists & other voice users who have been experiencing problems relating to their vocal health are also able now to book lessons that focus on vocal habilitation.
VOCALS ROCK is about assisting any kind of singer in developing and improving their sound, unlocking their unique singing potential and increasing their confidence.
I am dedicated to help my students to achieve their singing and screaming goals.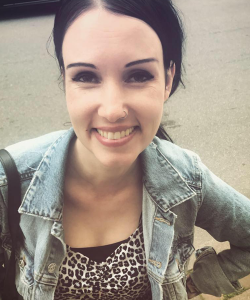 As a singer my roots lie in the Punk/Rock and Metal scene. Since 1995 I have sung in various bands and projects, performed live and toured in Europe, recorded and appeared on several albums. As a teacher I mainly work with Complete Vocal Technique (CVT). In my teaching I also use tools from other contemporary singing techniques that I explored over the years. I constantly strive to evolve myself through workshops, seminars and literature.
My experience as a singer & my passion for understanding how the human voice works, enables me to quickly identify what a singer needs to take his singing and performing to the next level. In addition, I also have many years of educational experience, working as a qualified social education worker with teenagers and as a coach in adult education.
VOCALS ROCK teaches all genres without limitations.
I work with students of all levels and ages. My goal is to ensure that the singers reach their goals effectively and know how to maintain the results. Lessons take place at my vocal studio in Copenhagen, online, in the rehearsal space or recording studio. I am also available for tours on request. Singing Lessons can be held in English, German and Danish.